Godfrey Daniels Guitar Works
Maker of the Hub Bub and Hub Bub Stage Pro Junction Boxes.
3 Items in Grid
4 Items in Grid
List
"The HubBub" – The world's first Dual Mode Cable Hub exclusively designed for OBEL equipped guitars. Built in a standard MXR style single aluminum box, The HubBub is hand wired using Switchcraft jacks. Just flip the toggle switch to the right, and the HubBub routes the signal from your OBEL equipped guitar thru your pedals, back to your guitar volume/tone controls and out to your amp. Flip the toggle to the left, and the The HubBub bypasses the OBEL circuit and routes a traditional signal from the guitar thru your effects and out to your amp. The HubBub is a passive system so no battery or power supply is necessary. The Hub Bub is made by Godfrey Daniels Guitar Works.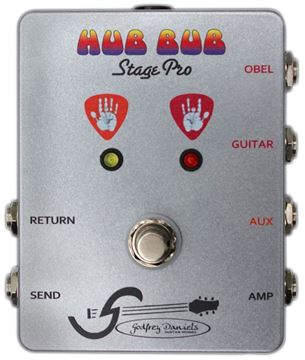 Built in a larger box, The StagePro has inputs for an Obel equipped guitar (labeled OBEL and GUITAR) and for a traditionally wired Auxiliary instrument (labeled AUX) as well as the jacks for effects SEND and RETURN and AMP. Instead of a toggle switch, The StagePro has a foot swtich with LED indicator lights to switch between the 2 modes. The StagePro utilizes a unique True Bypass switching configuration that totally disengages the instrument not in use from the signal chain. You can now switch between your OBEL equipped guitar AND a traditional input auxiliary instrument (pedal steel, mandolin, violin, keyboard, guitar etc) with just the stomp of a switch. The HubBub StagePro accommodates both Obel guitar and Auxiliary instrument AT THE SAME TIME. Please note: Like the original HubBub, the StagePro functionality is totally passive and will work perfectly without any power. The Hub Bub Stage Pro is made by Godfrey Daniels Guitar Works.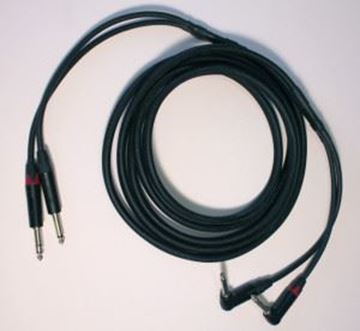 The Dual TRS/TS Cable consists of 2x 12′ Mogami Black Cables (1 TRS stereo & 1 TS mono) both with one straight and one rt angle Black Neutrix Plug (most popular configuration). Bundled in a FlexoPet expandable sleeve and secured with Double Layered Adhesive Lined Shrink Wrap for easy cable management and neat appearance. The Dual TRS/TS OBEL Cable is made by Godfrey Daniels Guitar Works.